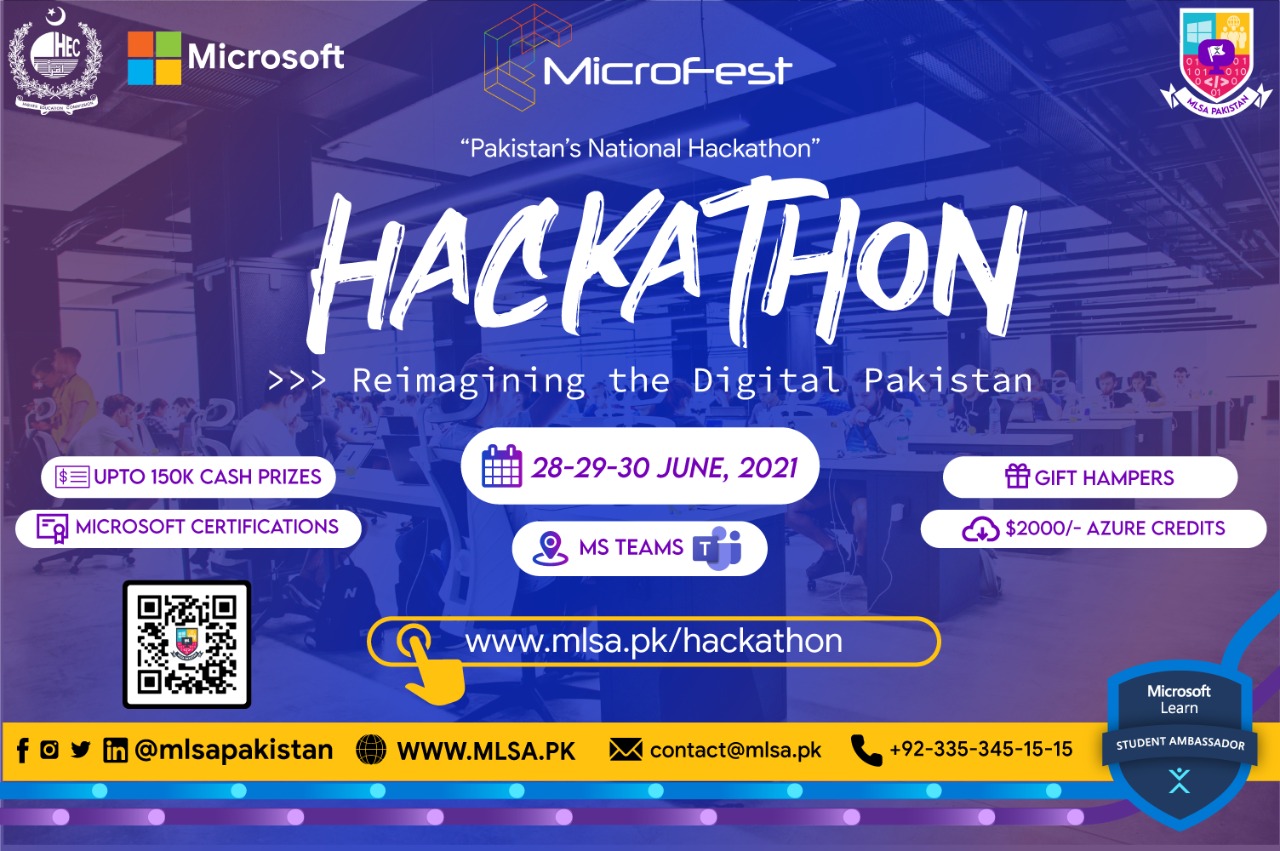 MicroFest Hackathon
To disrupt the lethargic hackathon culture of our country & curtail the gap between academia and industry caused due to this virtual paradigm, we are presenting you Pakistan's National Hackathon "Microfest Hackathon" intending to reimagine Digital Pakistan!
Carrying on the bequest of the prestigious Microsoft Learn Student Ambassadors Pakistan - (MLSA Pakistan), the renowned technology community of Pakistan, we are honoured to ignite this iconoclast initiative in collaboration with Microsoft & Higher Education Commission (HEC) Pakistan. MLSA Pakistan has been in a strategic partnership with Microsoft and Higher Education Commission Pakistan (HEC) evolving an enormous wave to the opportunities stream.
A hackathon is an event designed to use technology, to accomplish an objective, solving a real-world problem scenario. There's no question that hackathons have taken the world by storm, spurring the development of everyday products and moving millions of dollars. Hackathons drive innovation and creativity. A hackathon establishes the ideal environment for creating and refining great ideas. Benefits include hackathons kickstart careers, inspire teamwork and encourage diversity etc. Microfest Hackathon will take place virtually on Microsoft Teams. Student developers from all around Pakistan can participate. Perks include mentorship, hackathon workflow, cash prizes, Microsoft Certifications, 2000 USD Azure credits, gift hampers and more.
MLSA Pakistan is a well-rounded community of Microsoft learn student ambassadors hailing from Pakistan. We the MLSAs of Pakistan comprising 4.72% of Whole MLSA Program and 21.16% of EMEA Region are playing our part for the betterment of this community. MLSA is the flagship campus ambassador program powered by Microsoft, empowering the student community to bridge the gap between academia and industry.
Microsoft has always been a great mover towards hackathons and problem-solving activities as it reflects in Microsoft's tagline "empowering every person and every organization on the planet to achieve more" so, accomplishing this great aim requires creating real-world applications as a countermeasure to the problems of the planet. HEC has always strived hard to bring the opportunities stream to the awesome pool of intellectual student developers of Pakistan. Via this joint venture of HEC and Microsoft we will be depicting a crystal clear image of Digital Pakistan. Microsoft in collaboration with HEC has been providing enormous opporunuties to pakistani universities and students ranging from free certfication vouchers to mentorship and other enterprise benefits like Microsoft Teams product which has been a boon in this virtual educational paradigm.
Microfest Hackathon can be regarded as a readiness episode for the Global Olympics of Technology " The Microsoft Imagine Cup". It will boost the confidence of participants & provide the required leverage to compete more passionately than ever. "We live in a time where we can imagine the impossible and make it probable" (Satya Nadella on innovation)
Have the courage to take the pledge?
Let's Hack together in a fun way!

Learn: Unleash your learning potential!
Share: Share the passion for state of the art technologies!
Compete: Compete with your peers in a fun way!