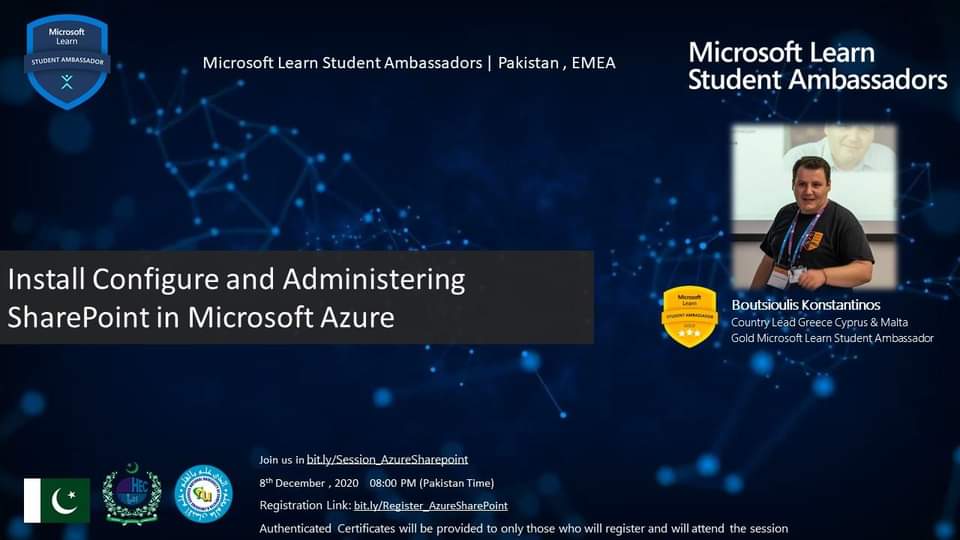 Install and Administering SharePoint in Microsoft Azure
When it comes to #Technologies and computing advancements, #Microsoft is always at the forefront. And when it comes to spreading those ideas in our communities, #MicrosoftStudentAmbassadors are there to do the job!
So it is with great excitement that we tell you about an upcoming Virtual - Hands-on Session on #Install_and_Administering_SharePoint_in_MicrosoftAzure from Scratch to have a good understanding of concepts, Configuration, Installation and tactics.
It will be on Tuesday (8th December, 2020) at 08:00 PM (Pakistan Time) which is going to cover all the major and minor aspects of #AdministeringSharePoint in a way that anyone can go from beginner to expert!
This event will be brought to you by the Microsoft Learn Student Ambassadors of Pakistan and FAST NUCES, under the umbrella of Higher Education Commission (HEC), Pakistan.
Topics:
- How to install a SharePoint Server in virtual machine in Microsoft Azure.
- How to configure Active Directory Services.
- How to install and configure SQL Server for SharePoint.
- How to configure Azure firewall.
- How to configure IIS for SharePoint.