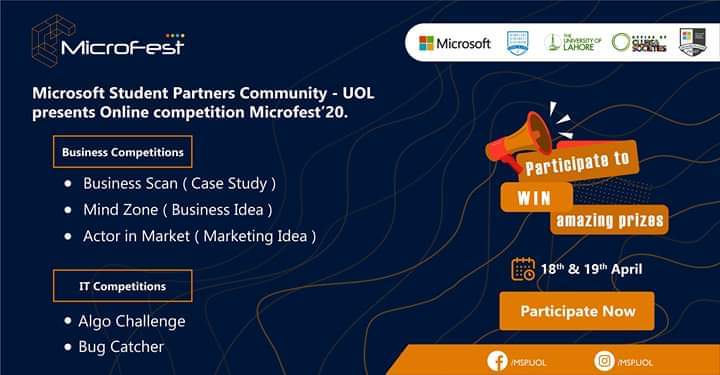 MicroFest'20
Due to COVID-19 and Lockdowns in all over country, MSP - UOL team has decided to organize its first online Event Microfest'20 (All-Pak) on 18 and 19 April, 2020, which includes different modules for IT and Business learners. The purpose of this event is to boost your inner abilities and assess your skills, which is a great opportunity for competent persons to show their talents.
Competition includes different categories like;
𝐈𝐓 𝐂𝐨𝐦𝐩𝐞𝐭𝐢𝐭𝐢𝐨𝐧𝐬
1. Algo Challenge
2. Bug Catcher

𝐁𝐮𝐬𝐢𝐧𝐞𝐬𝐬 𝐂𝐨𝐦𝐩𝐞𝐭𝐢𝐭𝐢𝐨𝐧𝐬
1. Business Scan
2. Mind Zone
3. Actor in market

*𝐑𝐞𝐠𝐢𝐬𝐭𝐫𝐚𝐭𝐢𝐨𝐧𝐬 𝐰𝐢𝐥𝐥 𝐛𝐞 𝐜𝐥𝐨𝐬𝐞𝐝 𝐨𝐧 𝐀𝐩𝐫𝐢𝐥 𝟏𝟔, 𝟕:𝟎𝟎 𝐏𝐌!
Winners in this competition will be rewarded $100 Azure Credits each from Microsoft.
All the participants will be rewarded Certificates from Microsoft. This event is free of cost for all.
Team MSP-UOL welcomes you all to be a part of this first ever Virtual event. So please come and join us on due dates and Stay tuned for more updates!