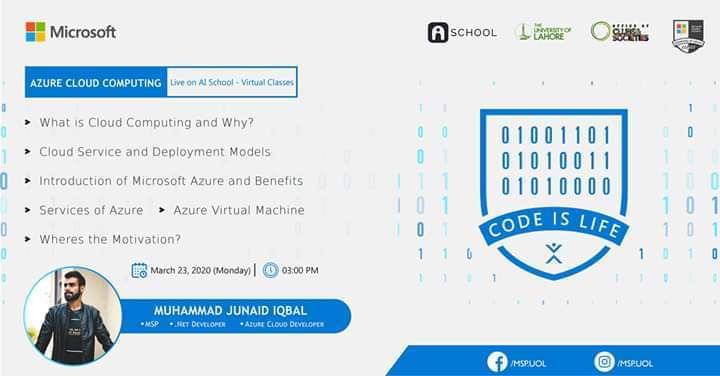 Cloud Computing - Microsoft Azure
MSP- UOL is organising a Seminar on Azure Cloud Computing on 23 March 2020(Monday) at 3:00 PM conducted by Muhammad Junaid Iqbal, President of MSP- UOL, Net Developer, Azure Cloud Developer and Founder of AI School from Computer Science Department, University of Lahore.
As we all know, Junaid is a very active and passionate member of MSP UOL community and also delivers Sessions at AI School-Virtual clases so we are using this opportunity to invite you all to participate in this Event.
The agenda of this Seminar is to get you familiar with Cloude Computing as Cloud computing is a big shift from the traditional way businesses think about IT resource.
Azure allows companies to easily launch customer and internal apps in the cloud.
Join us at the given time and day as the Seminar is intented to provide you with best knowledge about the given Agenda. Attending 1 day of the workshop is necessary for availing certificate.