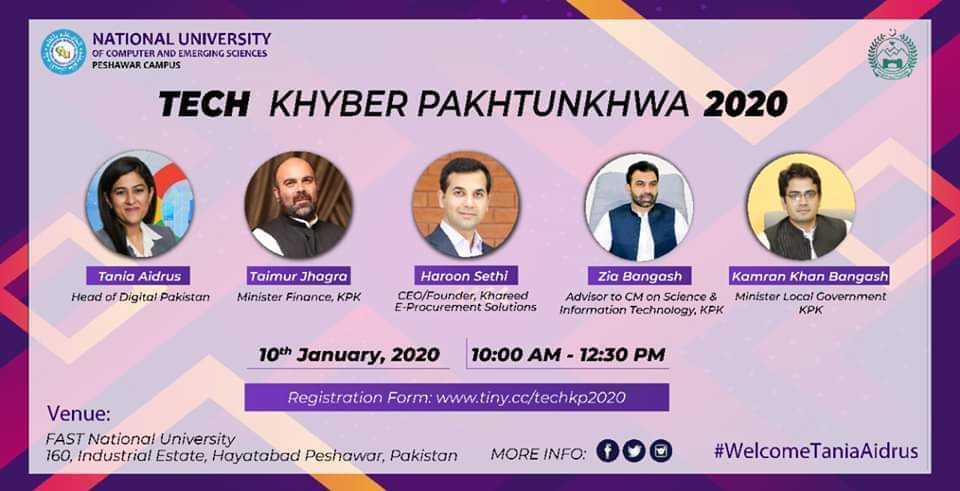 TECH Khyber Pakhtunkhwa 2020
For a long time, experts have been advocating digitalization as a way forward to improve state governance, make transparent the conduct of state machinery in terms of man and material, timely track and identify gaps and lapses in the processes. But, no government ever attempted to implement it. Our Prime Minister Imran Khan has recognized the importance of the digitalization of government processes. He believes that the digitalization of government processes is critical for the efficiency and transparency in the conduct of official businesses.
In order to lead the initiative of digitization of the economy and federal institutions, Ms.Tania Aidrus, a former Chief of Staff and Head of Strategic Initiatives on the Next Billion Users (NBU) team at Google, has recently been appointed as Head of Digital Pakistan Program. She is visiting our campus on 10th January 2020 to deliver a keynote on Tech Khyber Pakhtunkhwa-2020, jointly organized with the Government of KPK. Mr. Haroon Sethi, Founder/CEO at Khareed - E-Procurement Solutions. In addition, under mentioned Provincial Ministers will be the Keynote Speakers:
Mr. Taimur Saleem Jhagra, Minister of Finance.
Mr. Kamran Khan Bangash, Minister of Local Government.
Mr. Ziaullah Khan Bangash, Advisor to CM on ST& IT.